Annieville Blues has been playing piano since the tender age of 5. She was born in Los Angeles, California on January 16, 1960. Her music education and training began with traditional classical music but she soon realized that there were more exciting piano styles to play besides Bach and Beethoven.
Her first introduction to Rock 'n' Roll Boogie Woogie Piano was seeing Little Richard on American Bandstand in the 1960s. Annieville discovered Jazz and Blues while growing up in Los Angeles through her friends living nearby. These friends were the children of the famous performers, jazz drummer Louie Bellson and his wife singer/actress Pearl Bailey.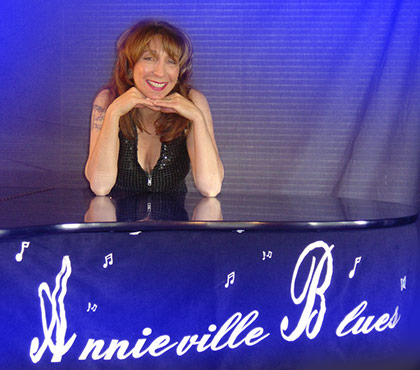 By age 11, Annieville's family had moved to a farm in Oregon. Her parents made sure that she had piano lessons, not an easy task in the small town of Grants Pass! She soon began accompanying school choirs at all grade levels and several church choirs. She performed in classical orchestras and jazz/rock/blues bands. At age 14 she was performing professionally in restaurants and bars.
Along with radio and television, her attraction and inspiration to learn more about boogie woogie, jazz and blues piano styles were sparked by collecting old recordings of legendary pianists. These included Albert Ammons, Meade Lux Lewis, Jelly Roll Morton, Fats Waller, Otis Spann, Fats Domino, Professor Longhair and Hadda Brooks, just to name a few. She also was fascinated by Jo Ann Castle's Honky Tonk piano playing on the Lawrence Welk show. Thus began Annieville's quest for knowledge and her continuing passion to play roots blues and boogie woogie music.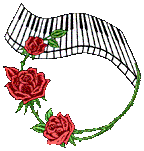 In the mid 1970s, Annieville began teaching private piano lessons. She was instructing her students in piano styles that she knew they would not learn through traditional training. Her first studio recording experience in 1977 was with Steve Miller of the Steve Miller Band. Steve Miller was a mentor to her about the business of music. In 1979, while attending junior college, Annieville at age 19 became, at that time, the youngest student teacher to receive certification in Oregon by the Oregon Music Teachers Association. In 1982, Annieville received her Bachelor's Degree in Music Performance & Composition from the prestigious Cornish Institute of Allied Arts in Seattle.
Another aspect of her younger years education was to sneak backstage at performances by boogie woogie, blues & jazz greats to hang out and talk with them. It was there the ultimate connection to performing music live was made and inspires her gigs, workshops and teaching to this day. Annieville maintains a private piano teaching practice and has taught students of many ages, but particularly elementary to high school age children. She has more than earned the name "Mother Goose of the Blues". She currently publishes & sells a textbook that she wrote, teaching her favorite music styles, entitled "Music Sprouts" which is available as a book plus CD.